Description
One piece casting of modern style 6.1 metre long coil cradle. Used extensively over the railway network, these coil cradles are seen in pairs on container flat wagon. Sold as a pair (2), the casting only require a small amount a cleaning up of flashing. Painting is a single colour of chrome yellow or similar colour.
Photo of finished product is of demonstration of a final result. Coil loads are not included in the kit. Coil loads are available from Auscision Models.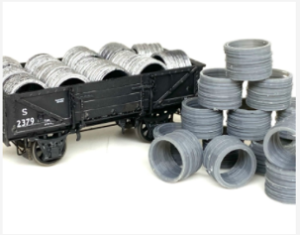 Typical arrangement in a S Truck and the raw coil rolls as printed.
NSW HGM open wagon with coil wire load.